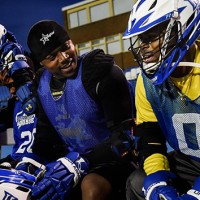 Photo by Toni L. Sandys/ The Washington Post via Getty Images(HAMPTON, Va.) — Hampton University makes history Saturday, hosting its first varsity lacrosse game against Division II Roberts Wesleyan College.
Hampton becomes the 70th NCAA Division I program with a men's lacrosse team — and the first Historically Black College or University to field a lacrosse team since Morgan State University in 1981. The Morgan State team competed at the Division II level, however, making Hampton the first HBCU school with a Division I men's lacrosse team.
ESPN broadcast its SportsCenter on the Road from Hampton's Armstrong Stadium Saturday morning.
The Hampton head coach, Lloyd Carter, played on the Morgan State team in 1981. He was previously the coach of Hampton's club lacrosse team.
Copyright © 2016, ABC Radio. All rights reserved.