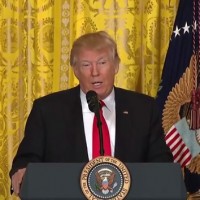 The White House(WASHINGTON) — President Trump told reporters Thursday his administration is working "like a fined-tuned machine," in the wake of this week's resignation of his national security adviser and the withdrawal of his nominee for secretary of labor.
"This administration is running like a fine-tuned machine," Trump said. "Despite the fact that I can't get my Cabinet approved, and they are outstanding people."
Ten of the 22 Cabinet-level nominees have yet to be approved, the most in U.S. history four weeks into a new presidency.
"I've also worked to install a Cabinet over the delays and obstruction of Senate Democrats," the president said. "I turn on the TV, open the newspapers and I see stories of chaos. Chaos. Yet it is the exact opposite."
Former Lt. Gen. Mike Flynn resigned from his post earlier this week amid questions about his communications with the Russian government during the transition period. And fast-food executive Andrew Puzder withdrew his nomination after questions about his employing an undocumented immigrant and his wife's retracted allegations of abuse.
Copyright © 2017, ABC Radio. All rights reserved.