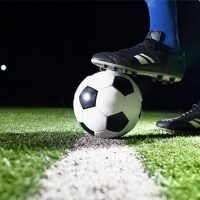 iStock/Thinkstock(LONDON) — Amidst an increase in anti-Semitic incidents in the U.S. and similarly in the United Kingdom, a soccer player with the English Football League is proudly displaying his faith — with a distinct buzz cut.
Tomer Hemed, a striker with Brighton & Hove Albion F.C., posted to his social media accounts last week a photo of himself showing a Star of David shaved into his hair.
"Always representing #starofdavid #jewish #israel #proudtobejewish #bhafc," wrote Hemed, 29, who is married to model and former Miss Israel Shunit Faragi.
The Community Security Trust, a British charity which monitors anti-Semitic incidents and works with police to gather data, said in January that recorded incidents of anti-Semitism in 2016 had increased by 36 percent from 2015.


British lawmakers have also become increasingly more vocal. Earlier this year, Secretary of State for Communities and Local Government Sajid Javid, a Conservative, said, "Anti-Semitism must be understood for what it is — an attack on the identity of people who live, contribute and are valued in our society.
And at the other end of the political spectrum, the Labour Party's deputy leader, Tom Watson, said, "We must root out anti-Semitism whenever it takes place and wherever it exists, as a party and as a country."
Earlier this week, during a parliamentary session, Prime Minister Theresa May also addressed anti-Semitism on university campuses, saying, "Higher education institutions have a responsibility to ensure that they provide a safe and inclusive environment for all students, and we expect them to have robust policies and procedures in place to comply with the law, to investigate, and to swiftly address [any] hate crime, including any anti-Semitic incidents that are reported."
In recent weeks in the U.S., dozens of bomb threats have been called into Jewish Community Centers across the country, and a handful of Jewish cemeteries have been vandalized.
Copyright © 2017, ABC Radio. All rights reserved.