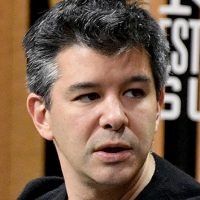 Photo by Mike Windle/Getty Images for Vanity Fair(NEW YORK) — A venture capital firm that invested early in the ride sharing company Uber is suing the company's former CEO for fraud, according to a complaint filed this week.
The suit revolves around a 2016 decision to expand Uber's board of voting directors from eight members to 11, a move that Benchmark Capital claims was initiated by former Uber CEO Travis Kalanick. The former CEO had the sold right to designate the three new board members.
Kalanick later resigned his role as CEO following a series of controversial public incidents. He then named himself to one of the three added board seats.
Benchmark Capital claims it would never have given Kalanick control over the three board seats had it been aware of his "gross mismanagement and other misconduct." According to the lawsuit, that claim includes "pervasive gender discrimination and sexual harassment."
Kalanick currently has about 10 percent equity stake in Uber, while Benchmark holds about 13 percent of the company that was most recently valued at about $70 billion.
A spokesperson for Kalanick told ABC News that the lawsuit is "completely without merit and riddled with lies and false allegations."
Copyright © 2017, ABC Radio. All rights reserved.