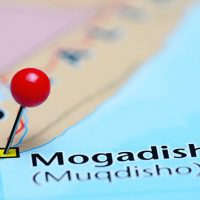 iStock/Thinkstock(MOGADISHU, Somalia) — The U.S. military conducted offensive airstrikes in Somalia on Thursday against fighters with al-Shabab, an affiliate of al-Qaeda.
No details were provided by U.S. Africa Command as to the targets of the airstrikes, which were the fourth offensive airstrikes carried out in Somalia since President Trump authorized such actions in March. Previously, only self-defense airstrikes could be carried out in Somalia in support of American advisers and Somali troops.
"On August 10, the Department of Defense conducted two kinetic strikes against al-Shabab militants," said a statement from U.S. Africa Command. "The operation occurred near the Banadir region in southern Somalia." Banadir is the administrative region surrounding the Somali capital of Mogadishu.
"This strike was conducted within the parameters of the proposal approved by the president in March 2017, which allows the U.S. Department of Defense to conduct lethal action against al-Shabab within a geographically defined area of active hostilities in support of partner forces in Somalia," the statement said. "We will continue to assess the results of the operation and will provide additional information as appropriate."
The president gave the U.S. military authority to target al-Shabab in a designated area of Somalia south of Mogadishu with prior notification to the Somali government.
This authorization for offensive actions has been used sparingly. The first airstrike occurred in June, with two others following in July, including one on July 31 that killed Ali Jabal, a senior al-Shabab leader who was alleged to have planned terror attacks in Mogadishu.
Copyright © 2017, ABC Radio. All rights reserved.