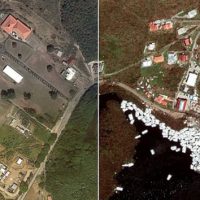 DigitalGlobe via Google News Lab(NEW YORK) — A series of satellite images taken before and after Hurricane Irma carved a path through the Caribbean detail the extent of widespread damage left by the storm.
At least 37 people died in the Caribbean, and at least another seven in Florida, as a result of the hurricane which had wind speeds as strong as 160 miles per hour when it made landfall in Cuba.
Click here for a look at the aftermath of Hurricane Irma at three locations in the Caribbean.
Copyright © 2017, ABC Radio. All rights reserved.