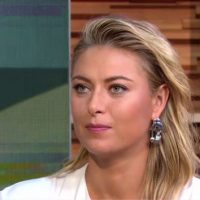 ABC News(NEW YORK) — Tennis superstar Maria Sharapova said it was her "dream" to return to tennis after her 15-month suspension for doping and called her run at this month's U.S. Open an "incredible moment."
"The U.S. Open was an incredible moment for me where I just, I knew what I went through. I knew all the ups and downs that I had faced in the last couple of years," Sharapova, 30, said Tuesday on "Good Morning America." "To get that back, that was my dream. That was my wish and I made that happen."
Sharapova, a former U.S. Open champion, entered the tournament as a wild card and defeated top-ranked Simona Halep before falling to Anastasija Sevastova in the fourth round.
She described herself as ready to "move on" from the suspension by the International Tennis Federation (ITF) after a urine sample of hers from the 2016 Australian Open was found to contain a drug called meldonium.
Sharapova maintained that she was unaware that the drug she had been taking for a decade, mildronate, was also known as meldonium, which became a banned substance on the World Anti-Doping Agency's list as of Jan. 1, 2016. The Russian tennis player said she had started using the drug, which helps increase blood and oxygen flow, under a doctor's guidance in 2006 because of irregular electrocardiogram results as well as a family history of heart issues and diabetes.
When asked how it happened that Sharapova, a professional athlete, did not know the drug was banned, she replied, "It's a question that I was asking for quite some time but once you get past that, you know, it's time to move on."
She went on, "I think there a lot of things that you can ask and you can talk about and people you can blame, starting with yourself. Once you get through that phase, it's about the long term vision."
Sharapova saw her original two-year ban dropped to 15 months last October after she appealed the suspension with the Court of Arbitration for Sport, according to ESPN. The court reduced Sharapova's suspension after determining she acted with "no significant fault."
Sharapova, who wrote a memoir, "Unstoppable: My Life So Far," during her time off the court, said she always knew she would return to tennis.
"I've always seen myself ending the sport on my own terms and I knew … that I would finish my career and that I would be back," she said. "Being back means a lot to me."
Copyright © 2017, ABC Radio. All rights reserved.