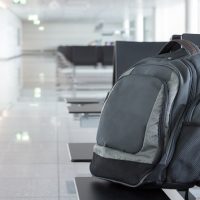 iStock/Thinkstock(ORLANDO) — Travelers at Orlando International Airport were sent running when an unattended backpack began smoking on Friday night.
The cause was not an explosive device, as many feared, but rather a camera battery that caught fire.
Ricardo Perez, an officer with the Transportation Security Administration, leapt into action when the bag first started smoking, moving the backpack between two pillars to shield people from the potential blast. He said his chief concern was protecting passersby from the danger, even if it put his own safety at risk.
"If there was an IED I was already gone," Perez said. "So I might as well try to save as many as I can."
There have been at least 19 incidents involving a battery catching fire on a plane or in an airport so far this year. This comes as the Federal Aviation Administration continues to push for tighter regulations for checked luggage, in part due to the fact that if a bag catches fire mid-flight, crew members can't put it out.

ABC Breaking News | Latest News Videos
Copyright © 2017, ABC Radio. All rights reserved.