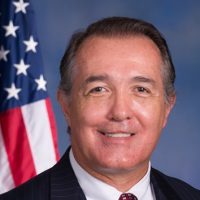 US Congress(WASHINGTON) — Eight-term Rep. Trent Franks, R-Ariz., announced on Thursday his resignation from the U.S. House of Representatives, effective January 31, 2018.
In a statement, Franks said that he and his wife have "long struggled with infertility" and that he broached the subject of surrogacy with multiple female staffers.
"I have recently learned that the Ethics Committee is reviewing an inquiry regarding my discussion of surrogacy with two previous female subordinates, making each feel uncomfortable," Franks said. "I deeply regret that my discussion of this option and process in the workplace caused distress."
Franks, a prominent evangelical Christian member of Congress and high-profile anti-abortion advocate, was a member of the Freedom Caucus and the Republican Study Committee.
Franks is the second U.S. congressman to resign in recent days, following Rep. John Conyers, D-Mich.
Copyright © 2017, ABC Radio. All rights reserved.