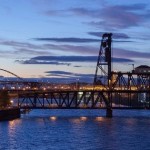 Revenue from Offshore Oil and Gas Royalties Used to Benefit Disadvantaged Neighborhoods with First-of-a-Kind, Competitive Grants

Washington, D.C. – Secretary of the Interior Sally Jewell and Director of the National Park Service Jonathan B. Jarvis today announced $3 million to assist eight cities in constructing and enhancing parks and other outdoor recreation facilities in disadvantaged neighborhoods. Projects range from the renovation of an athletic complex in Detroit, Michigan to construction of a new skate park in Madison, Wisconsin.
The grants, part of a new competitive grant program called the Outdoor Recreation Legacy Partnership, are funded through the Land and Water Conservation Fund (LWCF). For more than 50 years, the Land and Water Conservation Fund has invested revenue from federal offshore oil and gas royalties into more than 40,000 outdoor recreation facilities and conservation projects in every state.
"These eight projects are models of what we have been able to accomplish through the Land and Water Conservation Fund over the past half century," Jewell said. "We are reinvesting revenues from offshore oil and gas development into parks and open spaces, giving back a portion of what we have taken from our lands and waters. These investments will bring badly needed outdoor spaces and recreational opportunities to urban areas where people – especially young people – will benefit from improved places for healthy outdoor activities."
"Supporting local communities as they create and improve spaces for outdoor recreation through the LWCF Outdoor Recreation Legacy Partnership grants allows the National Park Service to meet our goal of connecting all Americans to spaces where they can enjoy the great outdoors and establish meaningful relationships in their communities and with their public lands," said Jarvis.
Portland, OR — $500,000 – The City of Portland, Verde, and private partners will develop a 25-acre park on a former brownfield in the Cully neighborhood of northeast Portland. The neighborhood, one of Portland's larger and more populous neighborhoods, is predominantly minority and low-income and has limited outdoor recreation opportunities as compared to other regional areas. The grant will restore habitat and support development of an accessible playground, walking trail with exercise equipment, scenic overlooks, off leash dog area, Intertribal Gathering Garden (open to the public), and a youth soccer field at Thomas Cully Park.
If you see local news happen, call the Horizon Broadcasting Group News Tip Hotline at 541-323-NEWS, or email us.