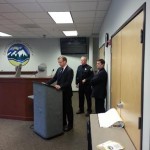 La Pine, Ore. – Deschutes District Attorney John Hummel cleared Albert Reisert of suspicion in the August 18th stabbing death of James Drake in La Pine.
"Reisert was being assaulted in his house by James Drake and stabbed him to protect his life. Reisert's decision was justifiable under Oregon law and not only reasonable, but darn near unavoidable." – John Hummel.
DA Hummel also says Mark Fisher was present with James Drake at the time of the stabbing and he was arrested that day for aiding Drake in the assault on Reisert that led to the stabbing.
Further investigation and consideration of the evidence led Hummel to charge Fisher with Assault in the Third Degree for another assault – not the assault in Reisert's house.
He says earlier in the day Fisher and Drake mutually assaulted Reisert outside of Reisert's house and it is this incident that Fisher is being charged for.
If you see local news happen, call the Horizon Broadcasting Group News Tip Hotline at 541-323-NEWS, or email us.