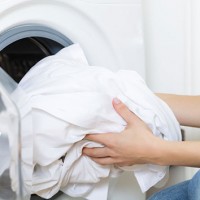 kzenon/iStock/ThinkStock(NEW YORK) — After tens of thousands of calls from frightened caregivers to poison control centers across the country, your laundry detergent may be getting a fresh look.
According to the American Association of Poison Control Centers, the new highly-concentrated, single-load liquid laundry detergent packets sometimes cause children to experience excessive vomiting and difficulty breathing when ingested.
Liquid laundry detergent packets, often known as "pods," first hit the market in 2012. They're convenient to use and extremely popular — but they also carry hidden dangers.
Between January and July there were 7,184 incidents reported to the A.A.P.C.C. involving kids younger than six years old. That number is on track to exceed the total number of incidents reported in all of 2014 (11,714). This has prompted consumer advocacy groups to ask for stronger warnings on laundry pods.
This past July, Consumer Reports decided to stop recommending the pods to consumers and urged households with young children to avoid the pods.
Consumer Reports notes that its warnings do not apply to detergent packets containing powder. Injuries associated with powder-containing packets are less severe and less frequent.
According to Nate Osburn of A.S.T.M. International, the U.S. Consumer Product Safety Commission approached the organization last year about bringing together industry experts, manufacturers, safety advocates, and the Consumer Federation of America to make sure the pods are packaged and labeled safely. On Tuesday, the parties came to an agreement on a series of voluntary safety standards.
The new voluntary standards apply new labeling and packaging requirements, including:
1. Adding an agent to the packet's outer film that provides a "repulsive" taste.
2. The container holding the packets is not transparent or translucent.
3. A container requiring more skill to open.
4. Adding new warning statements and safety symbols on labels cautioning consumers of ingestion or direct skin or eye contact.
5. More strength to each packet's outer film, making them more difficult to bite through.
Procter & Gamble, maker of Tide Pods, told ABC News it "will work diligently to ensure that our products meet all of these guidelines."
Copyright © 2015, ABC Radio. All rights reserved.