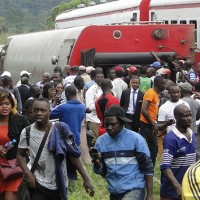 STRINGER/AFP/Getty Images(ESEKA, Cameroon) — Officials in Cameroon now say at least 70 people were killed in a train crash Friday, with another 600 people injured.
The train was overcrowded when it derailed while traveling between Douala and Yaounde, according to BBC.
Cameroon President Paul Biya offered his condolences to families of the victims in a Facebook post and said the government would "provide full assistance to the survivors."
There will be an investigation into the cause of the derailment, according to the Cameroon president.
Copyright © 2016, ABC Radio. All rights reserved.