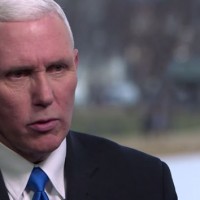 ABC News(WASHINGTON) — Vice President–elect Mike Pence assured Americans currently covered by the Affordable Care Act that they "should have no anxiety about losing their insurance."
"Any American who has insurance today, through an 'Obamacare' exchange or through the Obama plan itself, should have no anxiety about losing their insurance," Pence told ABC News' Martha Raddatz in an interview today. "We're committed to an orderly transition, to a new and better health insurance set of reforms that are going to work for every American, just like the president-elect said."
Pence said he anticipates a plan to replace "Obamacare" will be brought forward in the "early weeks" of the new administration.
"Right now, literally as we speak, our policy team is working with leaders in the House and the Senate and some Democrats coming together to fashion that replace plan," he said.
He did not give details on the replacement plan but pointed to an open-marketplace approach.
"I think the president-elect really believes in the power of the marketplace. He's a businessman. He understands the strength of the American economy," Pence said. "On the campaign trail he talked consistently about his enthusiasm for allowing Americans to purchase health insurance across state lines the way we buy life insurance, the way we buy car insurance."
Copyright © 2017, ABC Radio. All rights reserved.