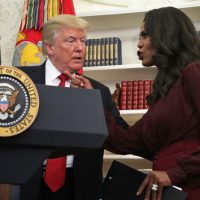 Alex Wong/Getty Images(NEW YORK) — Reality TV star and former White House staffer Omarosa Newman warned her fellow contestants on Celebrity Big Brother that there is more to fear from the prospect of a President Mike Pence than President Donald Trump on Monday night's episode.
"We would be begging for days of Trump back if Pence became president," she said.
Newman cited Pence's religious convictions as cause for concern.
"He's extreme," she said. "I'm Christian, I love Jesus, but he thinks Jesus tells him to say things."
Newman didn't shy away from expressing her opinions on other government issues either, including criticism of the Trump administration's handling of illegal immigration.
"The crackdowns are happening, and they're aggressive, and they're intentional and they're going to get worse," she said. "But don't get me wrong, the Obama administration was aggressive about deportation, too."
A clip of Newman gained attention Thursday evening when she said on the CBS reality show that she would not vote for Trump again "in a million years," and told a fellow contestant that "It's going to be not OK." She reaffirmed this sentiment to another housemate on Monday's episode: "No, we're not OK."
Newman, who appeared on Trump's NBC reality shows The Apprentice and Celebrity Apprentice, said she resigned as director of communications for the Office of Public Liaison in December. White House sources, on the other hand, told ABC News she was fired and escorted off White House grounds.
Copyright © 2018, ABC Radio. All rights reserved.