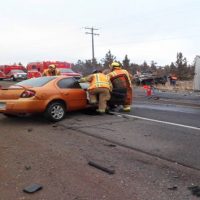 Traffic was a nightmare in Redmond for a time yesterday.
A Prineville man is dead after a Highway 97 wreck.
Police say Richard Lanning drove into oncoming traffic for some reason yesterday morning and slammed head on into a Bend Roof Truss truck.
Lanning was 73-years-old.
The truck driver has minor injuries.
The crash closed the highway for more than three hours.
Right as that deadly crash closed 97, another wreck happened on Highway 126.
Nobody was killed in that one, but a Eugene man was seriously injured in the head-on wreck while he was trying to avoid a stopped car.
Nobody in the other vehicle was seriously hurt.
Police say the Eugene man will likely be cited.