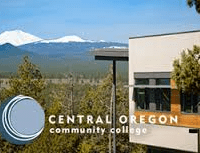 Dr. Laurie Chesley has been named president of Central Oregon Community College. The COCC board of directors voted unanimously on Tuesday to approve the hiring of Chesley as just the sixth president in COCC's 70-year history. She will assume the position on July 1, replacing Dr. Shirley Metcalf who has served in the role since August 2014.
"We are thrilled to be welcoming Dr. Chesley to Central Oregon and to this college," said Laura Craska Cooper, chair of the COCC board of directors. "We were so impressed with her passion for the mission of community colleges and our role of promoting student success and community workforce development."
Chesley is the provost and executive vice president for academic and student affairs at Grand Rapids (Michigan) Community College. She taught English at a variety of higher education institutions for 14 years, including five years of full-time teaching at Northwestern Michigan College. She has 18 years of administrative experience, including as interim dean of learning at Northwestern Michigan, assistant vice president for academic affairs at Ferris State (Michigan) University, dean of humanities at Montgomery County (Pennsylvania) Community College, and then associate dean and dean of arts and sciences at Grand Rapids Community College, before becoming vice president in 2015.