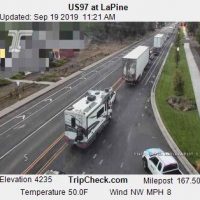 ***UPDATE: O-DOT expected to re-open 97, just after 2p.m.***
FROM KTVZ:
One person was killed in the head-on collision of a pickup truck and semi-truck Thursday morning on U.S. Highway 97 south of La Pine, authorities said.
La Pine Rural Fire Protection District firefighters/paramedics were dispatched shortly after 10 a.m. to the reported head-on crash about a mile south of La Pine on Highway 97 near the Jack Pine Loop Road, north of the state Highway 31 junction.
Fire Chief Mike Supkis said a pickup truck collided head-on with a southbound semi-truck, with one confirmed fatality and no other injuries.
There was a fuel leak, Supkis said, and the semi caught on fire for a time.
ODOT reported the road was closed in both directions near milepost 170 and Masten Road. No detour is in place, the agency said. Southbound traffic backed up in La Pine as a result of the road closure.