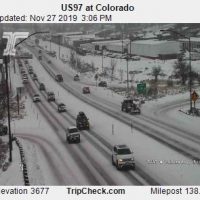 The City of Bend continues its snow management with 16 pieces of equipment deployed. Contractors have an additional 22 pieces of equipment plowing public residential streets.
City crews are prioritizing plowing collectors and arterials.
Contractors are prioritizing clearing public residential streets. City crews will sand problematic areas on public residential streets as staffing and resources allow. There may be areas that are icy prior to being sanded. Drivers are asked to use caution and drive slowly in these areas. Those with vehicles parked on residential streets are encouraged to move their vehicles off the street to allow the plows to clear the streets from curb to curb.
Drivers are reminded to go slow and proceed with caution on steep or curving streets and at intersections on a slope. Roundabouts should also be navigated with caution.
City crews will continue snow management operations through 10 p.m. tonight. Contractors will continue plowing public residential streets until they are all plowed.
Tomorrow, City crews will staff two shifts with plows and sanders. The first shift will run from 4 a.m. to noon. The second shift will run from noon to 8 p.m.
City crews have plowed or sanded all of Bend's collectors and arterials at least once in the past 24 hours.