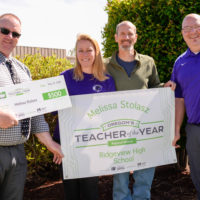 Redmond, Ore – The pivotal role of teachers has become especially evident in these last several months as schools have transitioned to distance learning in response to the global COVID-19 pandemic. Teachers have stepped up in countless, innovative ways to ensure students are safe, healthy and engaged to reach their full potential, making this a fitting opportunity to recognize the excellence of Regional Teachers of Year throughout the state!
Ridgeview High School science and mathematics teacher, Melissa Stolasz was named 2021 Regional Teacher of the Year! Stolasz wins a $500 cash prize and is in the running for Oregon's 2021 Teacher of the Year – to be announced this fall. 
"Mrs. Stolasz puts kids first every day," shares Lee Loving, Ridgeview High School Principal. "She has established a highly productive and enthusiastic rapport with each and every one of her students. This has resulted in amazing growth and outcomes for students. She is all about finding ways for students to feel that they belong in and can be highly successful in our school and in her classroom. Mrs. Stolasz is one of the most enthusiastic staff members I have ever had the opportunity with which to work. Not only is Melissa a great human, but she is also an inspiration to students, families, and staff alike. Suffice it to say, she is amazing! Melissa Stolasz is the best of the best and deserves this honor as Oregon Teacher of the Year!"
Regional Teachers of the Year are nominated by students, colleagues, administrators, friends or family members to apply for the award, and are selected by a diverse panel of regional representatives. Later this fall one of the Regional Teachers of the Year will be named the 2021 Oregon Teacher of the Year.
Thanks to the Oregon Department of Education's partnership with the Oregon Lottery, the 2021 Oregon Teacher of the Year receives a $5,000 cash prize (with a matching $5,000 going to their school!) and serves as a spokesperson and representative for all Oregon teachers. Three finalists will receive $2,000 with a matching $2,000 going to their school. Please visit OregonTeacheroftheYear.org for more information.