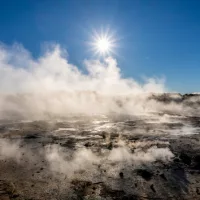 (LONDON) — More than 530 earthquakes rumbled southwestern Iceland before 7 a.m. on Monday, as magma continued to "slowly" move toward the surface, Icelandic Meteorological Office officials said.
"The likelihood of a volcanic eruption is high, and an eruption can be possible on a timescale of just days," a specialist wrote on the Met's website Monday morning.
Icelandic officials earlier this month declared a state of emergency near the Mount Fagradalsfjall volcano on the sparsely populated Reykjanes Peninsula. About 3,700 residents of nearby Grindavik were evacuated, according to the Department of Civil Protection and Emergency Management.
More than 20,000 earthquakes had struck Iceland's southwest since late October, officials said. The tremors continued last week, as thousands more quakes rumbled the area, destroying roads and maintaining the likelihood of an eruption.
The strongest earthquake to strike on Monday was a 2.7 magnitude trembler north of Hagafell, according to the Met Office.
Most of the quakes have been small in magnitude, weather officials said. The office recorded about 1,700 small quakes in an about 24-hour period late last week, with the largest at a magnitude of about 2.8, officials said on Saturday.
About 1,500 earthquakes were detected Sunday in the area near the magma, which officials described as a 15 km long "intrusion" located northwest of Grindavik. The largest earthquake on Sunday was a 2.3 magnitude one just after midnight, weather officials said.
"From geophysical models of the dike intrusion, it is estimated that the intrusion is propagating upwards slowly, with magma thought to be 800 m, or higher, beneath the surface," Met officials said Monday.
The Blue Lagoon, a well-known thermal spa in the area where the earthquakes are occurring, closed its doors, saying the chances of an eruption "have significantly increased."
Officials updated their statement on Nov. 14 to say the Lagoon would remain closed until at least Nov. 30.
ABC News' Meredith Deliso, Rashid Haddou and Tom Soufi-Burridge contributed to this story.
Copyright © 2023, ABC Audio. All rights reserved.