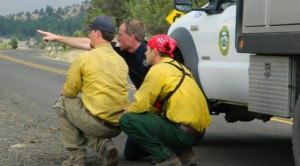 BEND, OR — Governor John Kitzhaber is working together with his West Coast peers calling for support of the Wildfire Disaster Funding Act.  In a joint letter cosigned by California's Jerry Brown and Washington's Jay Inslee, the Governors urged the congressional delegation of their states to back the legislation.
The bill would allocate more and separate funding to wildfire fighting efforts, ending the pattern known as "fire borrowing."  The current arrangement deducts money from prevention and mitigation efforts to pay for firefighting.
"There would be essentially a disaster fund instead of just buying down the resources we use in the non-fire season to improve the health of the forest," Kitzhaber told KBNW News.  "We're having a tough fire season right now – you folks had a close call over there in Bend – we want to make sure that not only we have the resources to fight those fires but that we can make those forests healthier and safer."
If the legislation is passed, the structure would be similar to how the Federal Emergency Management Agency pays for the cost of natural disasters such as hurricanes and floods.
If you see local news happen, call the Horizon Broadcasting Group News Tip Hotline at 541-323-NEWS, or email us.