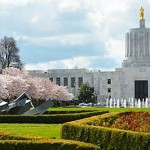 Salem, Ore. – Today the House Health Care committee voted unanimously to pass HB 2300, a bill that would allow terminally ill patients to access experimental treatments that have not yet been approved for market. HB 2300, or the Right to Try legislation, was spearheaded by Rep. Knute Buehler who led the bipartisan work group assigned to the bill.
"Right to Try will help save lives and give terminally ill people and their families hope," said Rep. Buehler. "As a doctor, I believe there is nothing more important than protecting the lives of my patients and providing them with options."
The FDA approval process is very expensive and can take up to 10 years to complete. Due to rigorous testing standards, limited availability and travel requirements, clinical trials are difficult for patients to participate in. HB 2300 would allow terminally ill patients to access drugs or treatments that have successfully completed Phase I of the FDA approval process.
"Right to Try will reflect Oregon's leadership in health care innovation and care of our most vulnerable citizens," said Buehler.
If you see local news happen, call the Horizon Broadcasting Group News Tip Hotline at 541-323-NEWS, or email us.