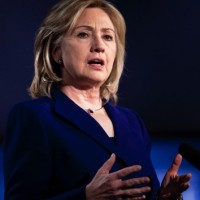 Brendan Smialowski/Getty Images(ATLANTA) — During a campaign stop Friday, Hillary Clinton will unveil more of her criminal justice agenda, which will include calling for an end to racial profiling and for fairer sentencing for crack cocaine use, according to an aide.
The release of Clinton's plans comes three weeks after the Democratic presidential candidate held a closed-door meeting with Black Lives Matter activists in Washington, D.C.
During that meeting, the activists discussed policies that they would like Clinton to incorporate into her agenda, including an end to private prisons and immigration detention centers.
The meeting with the activists did influence her criminal justice agenda, which she will roll out in full in the coming days, according to the Clinton aide. Since the meeting, for instance, Clinton has called for an end to private prisons and immigration detention centers that she said during a campaign event in Alabama "have turned incarceration into a for-profit industry."
During her remarks Friday at a luncheon with the Rev. Jesse Jackson and a subsequent campaign rally in downtown Atlanta, Clinton will lay out two initial parts of her broader plan.
Clinton will call for eliminating the sentencing disparity between crack cocaine and powder cocaine use. And she will call for a federal, state and local ban on racial profiling as a method of law enforcement, which she will argue is an ineffective tactic, as well as demeaning to the people who are interrogated.
In April, during her first major policy speech as a presidential candidate, Clinton called for widespread reform of the criminal justice system in the United States, urging the "end of an era of mass incarceration" and for increasing the use of body cameras by law enforcement agents nationwide.
"It's time to change our approach. It's time to end the era of mass incarceration," Clinton said during remarks at Columbia University in New York. "We don't want to create another incarceration generation."
Copyright © 2015, ABC Radio. All rights reserved.