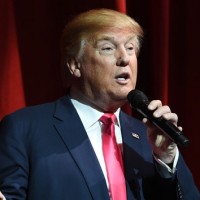 Ethan Miller/Getty Images(SIOUX Center, Iowa) — Republican presidential candidate Donald Trump joked Saturday that he could shoot people in New York City but still not lose what he called his loyal supporters.
"I could stand in the middle of Fifth Avenue and shoot somebody, and I wouldn't lose any voters, OK?" Trump said to laughter at a rally he held at a Christian college in northwest Iowa. "It's like, incredible."
As he spoke, the billionaire put his fingers into the shape of a gun and acted out pulling the trigger.
He was speaking at Dordt College, in Sioux City, Iowa.
Copyright © 2016, ABC Radio. All rights reserved.