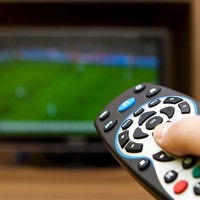 iStock/Thinkstock(NEW YORK) — If you're going to binge on an entire season of your favorite show, try to work in some light exercise between episodes.
According to a Japanese study released Monday in the journal Circulation, researchers found sedentary behavior — like watching too much TV — can contribute to death by blood clot.
Researchers at the Osaka University Graduate School of Medicine followed more than 86,000 middle-aged to older adults for 20 years, starting in 1988. The included participants reported their daily TV viewing and other lifestyle factors. People fell into three groups: those who watched fewer than 2.5 hours a day, between 2.5 and 4.9 hours a day, and five or more hours a day.
Researchers also collected causes of death from participants who died. During the course of the study, 59 people died of a pulmonary embolism, or a blood clot in the lung.
Putting together the data, researchers determined a pulmonary embolism was 70 percent more likely to be the cause of death for moderate TV viewers, rising by 40 percent for each additional two hours of TV-watching. People who watched the most daily TV were 2.5 times more likely to be killed by a clot in their lungs.
Too much sitting and other sedentary behavior causes blood clots form in large veins in the leg. If the clot breaks off and travels to the lungs, that's a pulmonary embolism, which can kill you nearly instantly, if it's serious enough. Chest pain, sudden shortness of breath and cough are some classic signs of a pulmonary embolism.
Copyright © 2016, ABC Radio. All rights reserved.