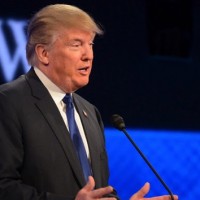 ABC News(NEW YORK) — The Trump campaign appears to be riding high and operating optimistically headed into the final week of the presidential campaign.
The clearest sign of that comes in the form of a $25 million ad buy that includes new spots in Pennsylvania, Michigan and New Mexico, all of which are classified as leaning Democratic in the current ABC News state ratings.
The only of those three states that has recent reputable polling is Pennsylvania, the latest of which has Clinton leading by six points in the Oct. 16 Quinnipiac survey. Michigan hasn't voted Republican since 1988 and New Mexico has only voted Republican once since that same year.
The campaign sent out a release saying that the significant ad buy comes as "an open acknowledgment that the campaign is surging in traditionally blue states as well as traditional battleground states."
All told, the buy will foot the bill for ads in Colorado, Florida, Iowa, Maine, North Carolina, Ohio, Wisconsin, Virginia, Nevada and New Hampshire as well.
It comes after Tuesday's ABC News/Washington Post tracking poll has Trump earning 46 percent support nationally to Clinton's 45 percent, a difference within the margin of error.
There have been a number of potential morale boosts to the Trump campaign in recent days.
On Friday, FBI director James Comey sent a letter announcing that there would be further review into newly discovered emails relating to Hillary Clinton's private server from her time as Secretary of State, which Trump had been calling for repeatedly during the campaign.
The email issue has plagued her throughout her presidential run, despite the FBI recommending no charges in the case over the summer.
Also on Friday, Trump gave $10 million of his money to his campaign, bringing that his personal spending total to $18.6 million contributed and $47.5 million in loans.
On Sunday, he received his second newspaper endorsement of the campaign, this time from the Las Vegas Review-Journal which is owned by his supporter Sheldon Adelson.
The campaign is also scheduling public appearances from some important figures on their roster.
Deputy campaign manager David Bossie, who makes far fewer press appearances than campaign manager Kellyanne Conway, spoke to Good Morning America Tuesday about their recent uptick in the polls.
"We have closed this gap dramatically over the last week," Bossie said.
Another infrequent face on the campaign trail will be turning up this week as well as Melania Trump is slated to give a speech on Thursday in Pennsylvania.
For his part, Trump appears happy with the campaign's recent uptick, sharing the news with his 12.8 million Twitter followers.
Copyright © 2016, ABC Radio. All rights reserved.