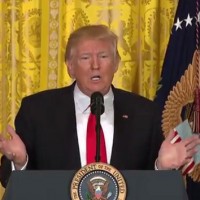 The White House(WASHINGTON) — President Trump said Thursday he has directed the Department of Justice to look into the leaks that have been happening during his administration.
The news comes amid a presidential news conference where he said that the leaks are "very serious."
"I've actually called the Justice Department to look into the leaks. Those are criminal leaks," Trump said Thursday afternoon.
"We are looking into that very seriously. It's a criminal act," he said after noting that his nominee Jeff Sessions was confirmed as U.S. attorney general.
Trump suggested that the leaks were coming from people that are still in place in various agencies who had been appointed during the Obama administration, but said, "I think you'll see it stopping because now we have our people in."
Earlier Thursday while talking to Republican supporters, Trump made it clear that he intends to punish those responsible for the leaks.
"We're gonna find the leakers. We're going to find the leakers. They're going to pay a big price for leaking," Trump said.
Copyright © 2017, ABC Radio. All rights reserved.