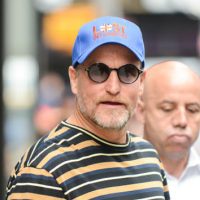 Getty Images/Ray Tamarra(NEW YORK) — Actor Woody Harrelson was a Planet of the Apes fanboy before he starred as the heavy in the upcoming War for the Planet of the Apes.
"When I saw the first one of this trilogy, I was freaking," he said on Good Morning America Monday. "I said 'This is amazing…I can't wait to see the next one,' then I saw the second one and I was like, 'Man, I can't wait to see the next one — and then I got to be in it! And it's really cool!"
Woody plays Colonel, the human commander bent on wiping out the human-like, advanced apes.
The actor marveled at Andy Serkis, who plays Caesar and who helped revolutionize the motion-capture technology that brings Caesar and the other apes to life. Woody says acting opposite his motion-capture colleagues was interesting.
"It takes a couple of days. You got … all these dots on their faces, and they're wearing these grey suits and …You see the camera right in front of their face and…it's a little bit of getting used to…And Andy [Serkis] — one of the greatest actors I've ever worked with," says Harrelson. "Incredible."
With War, this brings Harrelson's movie franchise count to three, along with The Hunger Games, and the upcoming Star Wars Han Solo film. While he's having fun, he says his daughters Zoe, 20, Deni, 24, and Makani, 11, aren't impressed with their dad's resume.
"Well, they're hard to impress these days, " he laughed. "Very, very hard to impress but they haven't seen the other two, so they've just seen Hunger Games so but we'll see…"
War for the Planet of the Apes, which also stars Amiah Miller, Steve Zahn, and Judy Greer, opens Friday.

ABC Breaking News | Latest News Videos
Copyright © 2017, ABC Radio. All rights reserved.