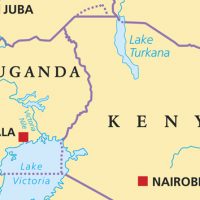 iStock/Thinkstock(NAIROBI, Kenya) — After he was declared the winner of Kenya's presidential race, President Uhuru Kenyatta called for unity amid the disputed election and reports of protests and violence from the opposition.
"I reach out to you…We are all citizens of the same republic," he said in a speech after the announcement, according to the BBC.
Kenyatta, 55, won with 54.3 percent of the vote, while his rival Raila Odinga, 72, took in 44.7 percent, BBC reports.
While Odinga called on his supporters before the results to remain calm, he also said that "people want to see justice," the BBC reports. After the announcement, Odinga and his campaign rejected the results.
Protesters took to the streets in several areas in wake of the result, according to the BBC, with reports of gunshots and some people lighting fires in roads. Police responded by firing tear gas in some locations, the BBC reports.
In 2007, Odinga alleged electoral manipulation after President Mwai Kibaki was declared the winner of Kenya's presidential election. The disputed election led to violent protests and targeted ethnic violence, killing about 1,100 people and displacing 600,000.
Copyright © 2017, ABC Radio. All rights reserved.