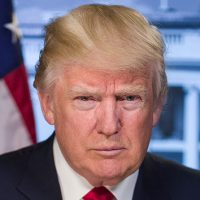 The White House(WASHINGTON) — President Trump joined a chorus of figures from across the U.S. political spectrum to speak out against the white nationalist rally that took place in Charlottesville, Virginia, on Saturday, where clashes between white supremacists and counterprotest groups forced the city to declare a state of emergency.
Trump tweeted Saturday afternoon in response to the protests.
We ALL must be united & condemn all that hate stands for. There is no place for this kind of violence in America. Lets come together as one!

— Donald J. Trump (@realDonaldTrump) August 12, 2017
The president's reaction comes after months of criticism from rights groups that he has neglected to speak out vociferously enough against a contingent of his supporters that promote white nationalist views.
Vice President Mike Pence followed Trump by saying that he stands with the president. Pence also mentioned Charlottesville by name in his tweet.
I stand with @POTUS against hate & violence. U.S is greatest when we join together & oppose those seeking to divide us. #Charlottesville https://t.co/p76Y9xQCPL

— Vice President Pence (@VP) August 12, 2017
Later in the afternoon, Trump tweeted again in reaction to the events in Virginia, writing "Charlottesville sad!"
Am in Bedminster for meetings & press conference on V.A. & all that we have done, and are doing, to make it better-but Charlottesville sad!

— Donald J. Trump (@realDonaldTrump) August 12, 2017
First Lady Melania Trump also commented on the rally via Twitter.
Our country encourages freedom of speech, but let's communicate w/o hate in our hearts. No good comes from violence. #Charlottesville

— Melania Trump (@FLOTUS) August 12, 2017
On the other side of the aisle, Sen. Bernie Sanders of Vermont, an independent and self-described democratic socialist, called the rally "reprehensible."
The white nationalist demonstration in #Charlottesville is a reprehensible display of racism and hatred that has no place in our society.

— Bernie Sanders (@SenSanders) August 12, 2017
Chuck Schumer, the Democrats' leader in the Senate, echoed that sentiment, saying that the rally was "against everything the flag stands for."
March & rally in Charlottesville against everything the flag stands for. President Trump must condemn in strongest terms immediately.

— Chuck Schumer (@SenSchumer) August 12, 2017
Speaker of the House Paul Ryan was among the high-ranking Republicans to speak out against the rally, calling it "repugnant" and "vile."
The views fueling the spectacle in Charlottesville are repugnant. Let it only serve to unite Americans against this kind of vile bigotry.

— Paul Ryan (@SpeakerRyan) August 12, 2017

Ronna McDaniel, the GOP chairwoman, called the rally "dangerous" and "cowardly" in a tweet.
Free speech may give them the right to do this but also empowers us to unite to loudly speak out against it.

— Ronna McDaniel (@GOPChairwoman) August 12, 2017

In a follow-up tweet, McDaniel defended the rally's right to exist, while urging citizens to speak out against it.
Copyright © 2017, ABC Radio. All rights reserved.