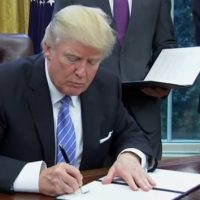 ABCNews.com(WASHINGTON) — The State Department on Tuesday praised new sanctions on North Korea passed by the United Nations Security Council, hours after President Donald Trump dismissed them.
"We had a vote yesterday on sanctions," the president said Tuesday. "We think it's just another very small step. Not a big deal."
The UNSC unanimously approved the new sanctions that ban 90 percent of North Korea's publicly-reported exports and cap the amount of oil the country is able to import.
Trump added the sanctions were "nothing compared to what ultimately will have to happen."
State Department spokesperson Heather Nauert told reporters she was "not going to go against the president," but she said she thought the sanctions were "significant" and "the strongest set of sanctions" passed by the UNSC on North Korea.
"The world is happy and the world is pleased with what took place yesterday," she said.
Copyright © 2017, ABC Radio. All rights reserved.