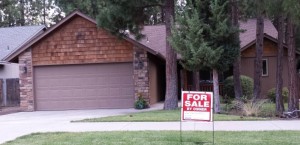 BEND, OR — The National Association of Realtors recently released a report of positive trends that indicates regained momentum in the housing market.
However, the Central Oregon Association of Realtors is seeing activity far above the national average.
"June of 2014 versus May of 2014 saw a 2.6% increase in sales of single family homes," says COAR President Wendy Adkisson. "In Bend, June of this year versus May of this year was an increase of 14.4%."
The national average for a single family home was roughly $223,000 while in Bend that average was just over $296,000. While that number may consistently rise year after year, Adkisson says the recuperating market is much more stable now than it was during the housing bubble only years ago.
"From 2004 to about the end of 2006, we saw drastic appreciation. Come 2007 we started to crash. I literally have a graph that looks like a mountain peak, it goes almost straight up and then almost straight back down again."
Despite public fears of another economic recession, Adkisson says that buying a home is always the best option.
"The market does fluctuate but your payment stays consistent, and rent always goes up." says Adkisson. "I mean, it's a guarantee. Rent always goes up. So it's always a better investment to invest in your own future."
Over 5 million homes were sold in the US in 2013.
If you see local news happen, call the Horizon Broadcasting Group News Tip Hotline at 541-323-NEWS, or email us.