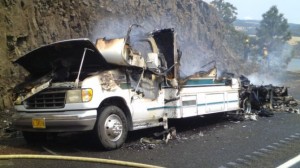 MOISER, OR — A motor home fire briefly closed westbound Interstate 84 near Moiser Wednesday morning.  By the time emergency crews arrived, the RV was off to the side of the freeway, fully engulfed.  A 57-year-old Hermiston man, the only one inside the motor home, was able to escape without injury.  While the motor home was a complete loss, crews prevented the fire from spreading to nearby grass and brush.
Oregon State Police closed the westbound lanes of traffic for about 30 minutes Wednesday as crews responded.
If you see local news happen, call the Horizon Broadcasting Group News Tip Hotline at 541-323-NEWS, or email us.