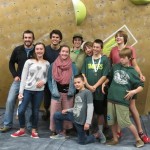 Bend, Ore. – Bend Endurance Academy (BEA) rock climbers have earned invitations to compete in the USA Climbing Division 1 Bouldering Championships to be held in Reno, NV later next month. Emma Vee McMillin, Lukas Strauss-Wise, Leah Pfeiffer and Forrest Franklin, have all secured their spots at the Divisional Championships by finishing in the top seven places in their age categories during last weekends Regional Championships held in Boise, ID. The four climbers all finished in 3rd place in their respective categories. "It's great to see our athletes standing on the podium among other strong climbers from all over the Northwest," says BEA Climbing Program Director Mike Rougeux.
The Reno competition next month will serve as the qualifying event for the USA Climbing Youth Bouldering National Championships being held February 13 – 15 in Madison, WI. "The next round of competition at the divisional level is really a step up. We'll see the top climbers from three regions all vying for an invite to Nationals and hopefully our climbers will be some of the ones who move on to the national event" Rougeux went on to say.
Bend Endurance Academy climbing programs continue this spring with the second session of the Climbing Development Team starting in early February. The Development Team is geared towards youth climbers' ages 9 and older who have already had some previous climbing instruction and are looking to start competing and being a part of a youth team. More information about all of the Bend Endurance Academy climbing programs can be found at www.bendenduranceacademy.org/climbing-team/
If you see local news happen, call the Horizon Broadcasting Group News Tip Hotline at 541-323-NEWS, or email us.