Paulina, Ore. – On December 31st,at approximately 1:34 AM the Crook County Sheriff's Office, Crook County Fire and Rescue, and Rager ambulance responded to a house fire in the city of Paulina in the southeast corner of Crook County. Initially it was reported as a single residence that was on fire and the family of four living in that residence had gotten out safely.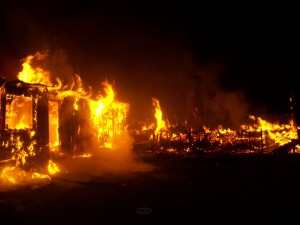 Prior to emergency personnel arriving two more structures caught fire due to the closeness to the first structure. The second structure was a single family residence that was vacant at the time of the fire. The 3rd structure was a duplex and one side of the duplex was occupied by a single resident who got out safely.
Crook County Fire and Rager ambulance treated several citizens for smoke inhalation and one for minor burns from fighting the fire. The city of Paulina is outside of the rural fire district so responding fire personnel responded to treat the injuries. The residents of Paulina all pulled together and were able to stop the spreading fire, thus saving additional residences from catching fire.
All three structures involved in the fire were a total loss. The fire also knocked out the power to the City of Paulina and Central Electric Co-op was called in to restore power. The Red Cross was notified and the five residents of Paulina were advised of their services but declined due to making other arrangements.
If you see local news happen, call the Horizon Broadcasting Group News Tip Hotline at 541-323-NEWS, or email us.