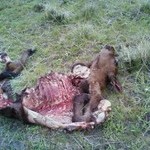 By Lori Raab
Madras, Ore. – This week it was a training session for Jefferson County Sheriff's deputies. They had a special workshop with a Wolf expert from Wallowa County on the correct way to investigate a suspected wolf kill.
"Although I don't think we have any wolves in our area, but I know they are slowing moving from the east, this way. We've had tracks in eastern Jefferson and Crook Counties."
Jefferson County Sheriff Jim Adkins has more details.
"So to help out the ranchers I had an expert from Wallowa County come here and teach us how we might investigate wolf kills, or the reported wolf kills."
He says the training is timely.
"I have the Cattleman's Association that's coming (here) on Saturday and I'll be able to report back to them that we've had this training. And that we're preparing for any type of call that's coming in and we'll be able to work alongside anyone from ODFW and determine whether or not the wolf was the "suspect" in the killing or if it was a death by any other manner. And this is very important to our ranchers."
If you see local news happen, call the Horizon Broadcasting Group News Tip Hotline at 541-323-NEWS, or email us.