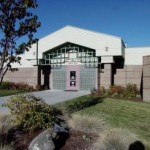 Bend, Ore. – On April 26, 2015 at approximately 3:08 a.m. Deschutes County Sheriff's Office Corrections Deputies located an unresponsive inmate in his cell. Deputies began life saving efforts until Bend Fire Department medics arrived and took over.
35 year old Eben Eli Keiji Kaneshiro of Portland was pronounced dead in his cell from an apparent suicide.
The Multi-Agency Major Crime Team is conducting the investigation with the assistance of the Deschutes County Medical Examiner's Office. The District Attorney's Office will release updated information in future press releases.
If you see local news happen, call the Horizon Broadcasting Group News Tip Hotline at 541-323-NEWS, or email us.