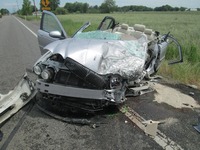 Albany, Ore. – According to Sergeant Nathan House, yesterday at about 11:42AM, OSP responded to the report of a two vehicle head-on crash on HWY 20, milepost 2.5, in Linn County (just east of Albany's city limits).
Preliminary investigation indicates a 2003 Jaguar, driven by Gary D RAMSEY JR, age 49, of Boring, OR was eastbound on Highway 20 near milepost 2.5, when, for an unknown reason, it crossed into the oncoming lane colliding head-on with a 1999 Dodge Van, driven by Billy R YUTZIE, age 67, of Albany (traveling westbound).
Upon arrival of medical crews, both men were pronounced deceased. Investigation has revealed YUTZIE was not using a safety belt. Other factors are still being investigated.
OSP Albany Area Command Troopers were assisted at the scene by the Linn County Sheriff's Office, Albany Police Department, Lebanon Police Department, Albany Fire Department, Lebanon Fire Department and ODOT. The highway was completely closed for approximately 3 hours during the investigation.
If you see local news happen, call the Horizon Broadcasting Group News Tip Hotline at 541-323-NEWS, or email us.