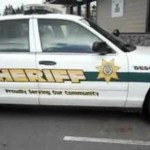 Bend, Ore. – Today at approximately 8:50am, The Deschutes County 911 Dispatch Center received the first of two calls regarding a suspicious & naked male in the Shevlin Park area. The first caller, a Bend woman jogging in the area, asked the man if he was "okay." He began cursing her and threatened "kill" her. She was able to leave the area and never felt her safety was in danger.
At approximately 9:14am, 911 received a second call from another woman in the area reporting a male in the area of Fremont Meadow and she described him as "fully nude, yelling and babbling".
Deschutes County Sheriff's personnel had been dispatched to the area upon receipt of the initial report. They were conducting area checks at the time of the second call. The man later identified as 20 year old Stephen WERNER of Bend was located near Fremont Meadow.
When they (Sheriff's Deputies) attempted to contact him, he became aggressive, charged one of the Deputies and attempted to assault him. WERNER was taken to the ground, handcuffed and detained. Neither the Sheriff's Deputy nor WERNER was injured during this attempt. Medics from Bend Fire & Ambulance responded to treat and assess WERNER's condition. He was later transported to St. Charles Medical Center by ground ambulance for further evaluation.
It's unclear at this time if WERNER's behavior was due to a medical condition or substance abuse and the incident is still under investigation.
Upon release from the hospital, WERNER will face charges of Attempted Assault on a Public Safety Officer-Class A Misdemeanor, Resisting Arrest-Class A Misdemeanor and Disorderly Conduct II-Class B Misdemeanor.
If you see local news happen, call the Horizon Broadcasting Group News Tip Hotline at 541-323-NEWS, or email us.