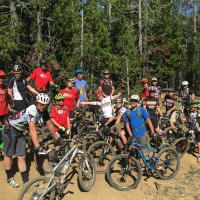 Bend, Ore. Bend Endurance Academy (BEA) junior cyclists will be heading to Mammoth Mountain, CA to compete in the USA Cycling Mountain Bike National Championships being held July 15th – 19th.
Ryder Uetrecht, Calvin Keane, Henry Jones, Hannah Mavis, Scotty Wallace, Elijah Krause, Nate Lelack, Caleb Campbell, Cooper Hagner, and Javier Colton, who all race and train with Bend Endurance Academy will be at the starting line later this month top see how they stack up against some of the top junior racers in the country.
"We have a lot of first time MTB nationals riders, so this is a big test for them. And the memories will last a lifetime, years from now they will be thinking of what it felt like to race for a national championship as a rookie", says Bend Endurance Academy coach Chad Cheeney who will be heading to CA with the team.
"Fun is the name of the game in mountain biking, so we will not be in our hotel room with the legs up. We will be out on the XC course cheering on Pro Coach Emma, we will be on the Down Hill course hoping to catch a glimpse of the speedy Aaron Gwinn. And shaking hands with superstars Howard Grotts and Kate Courtney. That's where it's at for Nationals. The junior riders need to soak up every inch of every day. When they are paid professionals, then they have to miss out on all that fun stuff." Cheeney went on to comment about the overall experience of racing at a National level event.
BEA Cycling Director Bill Warburton says that the course at Nationals is very challenging and racing at that level is a whole new experience for the junior racers. "Our juniors are really fit and riding really well", says Warburton. "It's going to be really interesting to see how they race at Nationals".
About Bend Endurance Academy
The Bend Endurance Academy is a 501 (c) 3 non-profit organization. The Academy organizes and operates programs that promote health and wellness within Oregon. The Academy provides athletic coaching, mentorship, educational experiences, volunteer opportunities and events for a diverse group of youth, young adults, and other individuals who desire to excel at endurance sports.
Bend Endurance Academy currently offer programs for Nordic Skiing, Cycling, and Rock Climbing
If you see local news happen, call the Horizon Broadcasting Group News Tip Hotline at 541-323-NEWS, or email us.