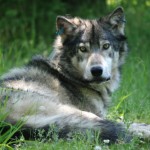 Salem, Ore.— ODFW staff believe gray wolves have met the criteria to be delisted from the state Endangered Species Act (ESA) and will recommend this action to the Fish and Wildlife Commission at their Nov. 9th meeting in Salem.
The meeting begins at 8 a.m. at ODFW Headquarters, 4034 Fairview Industrial Drive SE, Salem. It is open to the public and public testimony will be accepted during the meeting. Consideration of wolf delisting is the only item on the agenda. Written comments will also be accepted until Friday Nov. 6 at 5 p.m. and can be sent to odfw.commission@state.or.us More information about the meeting is available at http://www.dfw.state.or.us/agency/commission/minutes/15/11_november/index.asp
Wolf management in Oregon is guided by the Wolf Plan, which was originally crafted in 2005 by a broad group of stakeholders balancing competing interests. The Plan called for initiating a process to consider delisting wolves from the state ESA when eastern Oregon had a population of four breeding pairs of wolves for three consecutive years, an objective met in January 2015.
State ESA law gives the Fish and Wildlife Commission authority to list and remove species from the Endangered Species List.
"Delisting would result in no immediate changes to wolf management in Oregon. Wolf management is guided by the Wolf Plan and its associated technical rules, not the species' ESA listing status,"said Russ Morgan, ODFW wolf coordinator. "But delisting allows the Plan to continue to work into the future."
If you see local news happen, call the Horizon Broadcasting Group News Tip Hotline at 541-323-NEWS, or email us.