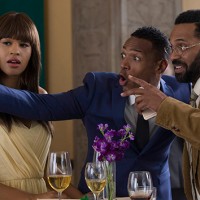 Kali Hawk, Marlon Wayans and Mike Epps in "Fifty Shades of Black"; Scott Everett White/Open Road Films(NEW YORK) — Here's a look at the new movies opening nationwide Friday:
* Kung Fu Panda 3 — In the new sequel to the hit animated franchise, Po reunites with his long-lost father and tries to train a group of pandas in an attempt to thwart a villain's evil plan. Jack Black, Angelina Jolie, Dustin Hoffman, Jackie Chan, Seth Rogen, Lucy Liu, David Cross, Bryan Cranston, Kate Hudson and J.K. Simmons lend their voices to the film. Rated PG.
* The Finest Hours — The drama is based on the true story of a daring 1952 Coast Guard rescue during a blizzard. Chris Pine, Casey Affleck, Ben Foster, Holliday Grainger, John Ortiz and Eric Bana star. Rated PG-13.
* Fifty Shades of Black — Marlon Wayans pokes fun at Fifty Shades of Grey, Kim Kardashian and more in his latest parody. Kali Hawk, Jane Seymour, Mike Epps, Fred Willard, Affion Crockett, Andrew Bachelor and Florence Henderson also star. Rated R.
Copyright © 2016, ABC Radio. All rights reserved.