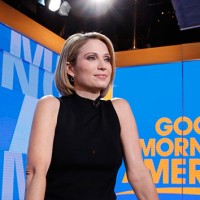 ABC/Heidi Gutman(NEW YORK) — Good Morning America co-anchor Amy Robach is ready for her close-up –. on the ABC primetime hit, Castle.
She'll appear on tonight's episode opposite actors Jon Huertas, who plays Det. Javier Esposito, and Seamus Dever. who plays fellow Det. Kevin Ryan. Robach will play a TV reporter named Lila Campo.
GMA went behind the scenes with Robach, visiting her trailer and following along as she went for her wardrobe fitting and hit up craft services for dinner.
Her co-stars gave her some pointers. "Generally, with TV, simplicity and truth kind of wins out," Dever said. "So, especially with what we do. So, you're doing great."
After rehearsing with her cast mates, they took Amy on a tour of the set, including their desks and the familiar interrogation room. Then, it was time for Robach to channel her inner Campo.
Castle airs on ABC Monday nights at 10:00 ET, 9:00 CT.
Watch the video to see a sneak peek of Amy's scene!

ABC Breaking News | Latest News Videos
Copyright © 2016, ABC Radio. All rights reserved.