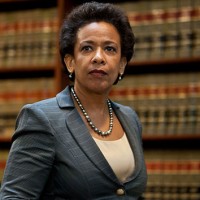 Ramin Talaie/Getty Images(WASHINGTON) — Attorney General Loretta Lynch is not interested in the vacant Supreme Court slot.
According to a statement from Melanie Newman, a spokeswoman for Lynch, on Tuesday, the attorney general said she did not want to be considered because she was committed to finishing her work in the Department of Justice.
"As the conversation around the Supreme Court vacancy progressed, the Attorney General determined that the limitations inherent in the nomination process would curtail her effectiveness in her current role," said the statement. "Given the urgent issues before the Department of Justice, she asked not to be considered for the position."
Because of Lynch's ties to President Obama, chances are she probably would not have been chosen, considering Republicans have said they would oppose any Supreme Court nominee from the president.
Copyright © 2016, ABC Radio. All rights reserved.