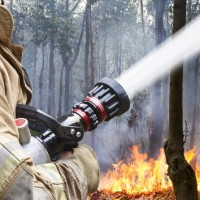 iStock/Thinkstock(LOS ANGELES) — Some 300 firefighters are battling a raging wildfire that has charred 5,500 acres in Santa Clarita, California, just north of Los Angeles, officials said.
The so-called Sand Fire broke was first reported Friday afternoon along the northbound side of the 14 Freeway near Sand Canyon Road. The fast-moving brush fire grew thousands of acres overnight, heading toward the Angeles National Forest and away from the more heavily populated areas of Santa Clarita, which is home to around 180,000 residents.
Nighttime images and videos of the Santa Clarita hillsides showed long glowing lines along the ridges, topped by soaring flames and swaths of smoke. Pictures from this morning showed plumes of smoke still billowing into the air. Containment remained at 0 percent Saturday morning, according to the Los Angeles County Fire Department.
The Los Angeles County Fire Department and the U.S. Forest Service are in "unified command," utilizing helicopters and dozers to fight the blaze. One firefighter has suffered a minor injury and no structures have been destroyed so far, officials said.
The blaze prompted mandatory evacuations in the area, including one that is still in effect for about 300 homes in the Little Tujunga Canyon area. Some evacuation orders for other areas were lifted by Saturday morning, according to ABC station KABC-TV in Los Angeles.
An evacuation center has been set up at Golden Valley High School, according to officials.
Copyright © 2016, ABC Radio. All rights reserved.