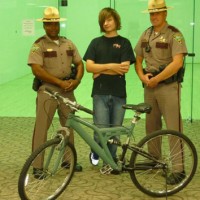 Courtesy South Dakota Highway Patrol(SIOUX FALLS, S.D.) — It's a badge of honor.
A teen who hoofed it more than eight miles to work every day got an unexpected gift from South Dakota troopers who stopped him along the way one day, police said.
Cops spotted the teen, Tanner, walking on Interstate 229 a few weeks ago.
"After talking with Tanner, Sergeant Swenson learned that Tanner was walking to and from work, everyday, over 8 miles," the South Dakota Highway Patrol said in a Facebook post.
Swenson then discussed the situation with his colleagues and the officers decided "they would use their resources and find him a bike," police said.
On Aug. 16, troopers gave him a new bike.
Copyright © 2016, ABC Radio. All rights reserved.