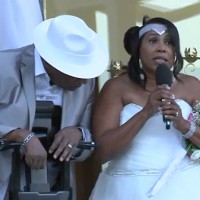 KGO-TV(AGOURA HILLS, Calif.) — A special robotic device helped a man who normally uses a wheelchair stand next to his bride at the altar on Saturday.
Annetta Bryant, the bride who helped Steve Jabari recover after a brain aneurysm six years ago affected his speech and mobility, called it "the most overwhelmingly exciting moment of [her] entire life," according to ABC News affiliate KGO-TV.
The Tek Robotic Mobilization Device, made by Tek Robotics, lifts the user from underneath when standing so Jabari would not need to use any muscles to move.
Bryant told KGO-TV she "almost fainted" when the couple got the device because they had wanted it ever since it was prototyped a few years ago.
After some help being lifted into the device and some assistance to operate the joystick, Jabari was ready for the couple's big day and entered the ceremony to cheers and applause, according to KGO-TV. The two even shared a kiss before the ceremony began.
The couple used a demo at the wedding as the mobility device costs more than $20,000. They started a GoFundMe page to raise funds for Jabari's own device.
"…We're asking for help and support from the world," she told KGO-TV. "Help us so we can have something that gives…him a chance to stand tall, get his strength back on his legs."
Copyright © 2016, ABC Radio. All rights reserved.