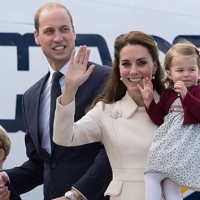 Samir Hussein/WireImage via Getty Images(NEW YORK) — Prince William and Princess Kate wrapped up their 8-day tour of Canada Saturday, departing via seaplane from Victoria Harbour before boarding a Royal Canadian Air Force plane in Vancouver back to London.
Thank you Canada – goodbye! pic.twitter.com/bp5IxjxVvL

— Kensington Palace (@KensingtonRoyal) October 1, 2016

Prince George and Princess Charlotte melted hearts mastering the Royal wave to cheering onlookers as they departed. George even got a grin from his father as the excited toddler started waving with one hand and then delighting well-wishers with a double-handed wave.
Kate dressed in a cream Catherine Walker coat adorned with the Queen's maple leaf brooch while George had on his trademark shorts. Princess Charlotte was color-coordinated with her brother in a pale blue floral printed dress and burgundy sweater, in a nod to her Canadian hosts and matching bow in her hair.
Prince George, who declined to high-five Prime Minister Justin Trudeau when the family touched down again, looked blankly at a young boy who also put his hand up for the toddler while they said goodbye. The little Prince, however, seems to be slowly adapting and understanding his Royal role which lies ahead. He shook President Barack Obama's hand at a Kensington Palace dinner this spring and is getting used to the cameras and crowds, who are focused on his every move. And on Saturday, the three-year-old politely shook the hand of Governor General David Johnston at the afternoon departure ceremony.
The future King could be seen peeking out of the float plane window, as the Cambridges' plane took off, with his nose glued to the glass.
The family of four took Canada by storm visiting Canadians in Victoria and Vancouver and the picturesque communities of Kelowna, Whitehorse, Bella Bella, and Haida Gwaii, paying respect to the First Nation communities, while they toured.
The couple wrapped up their final day highlighting the issues which are a major focus of their charitable work, meeting families and young people struggling with domestic abuse, suicide and mental health issues.
We have created such happy memories for our children during this visit #RoyalVisitCanada pic.twitter.com/S1v0XO3WvT

— Kensington Palace (@KensingtonRoyal) October 1, 2016

Ultimately it was their children, Prince George and Princess Charlotte, who stole the spotlight from their parents during the Royal tour. Whether it was hearing Charlotte say her first public words "pop" as she was happily banging on a balloon arch or bouncing on a therapy dog, Kate and William allowed the cameras into their world, if only for an hour at a party for military families.
Prince William and Kate, who fiercely guard their children's privacy, allowed a rare glimpse into their family life with their children. Prince William, who lost his own childhood when his mother's life tragically ended, showed the world that he values fatherhood above all else. We watched as William responded to his daughter asking for "Dada" and gingerly placing George on a pony saying to his young son "How's that? Look it's got a mane. Give it a stroke first then you can come off."
For the first time, the public witnessed the Cambridges like any other ordinary family,as parents first and not as Royals. And in those touching moments they seemed most extraordinary.
As the couple return home, they departed leaving Canadians with a message of thanks.
And we will never forget the many people people who have been kind enough to come to welcome us in person. pic.twitter.com/LuWYUO5Q8f

— Kensington Palace (@KensingtonRoyal) October 1, 2016

"Catherine and I are incredibly grateful to the people of Canada for the warmth and hospitality they have extended to our family over the last week. We have loved our time in British Columbia and Yukon and will never forget the beautiful places we have seen and the many people who have been kind enough to come to welcome us in person" Prince William said in a statement released by Kensington Palace.
He continued, "We feel very lucky to have been able to introduce George and Charlotte to Canada. This country will play a big part in the lives of our children and we have created such happy memories for our family during this visit … We will see you again soon."
Copyright © 2016, ABC Radio. All rights reserved.