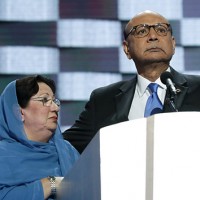 Joe Raedle/Getty Images(WASHINGTON) — Khizr Khan, the Gold Star father of slain U.S. Army Capt. Humayun Khan, who died while serving in the 2004 Iraq War, is hitting the campaign trail for the first time in support of Democratic presidential nominee Hillary Clinton.
With a copy of the U.S. Constitution in his hand, Khizr Khan captivated the nation this summer during the Democratic National Convention when he gave an electrifying speech denouncing Donald Trump for his proposal to temporarily ban Muslims from entering the country and telling the GOP nominee, "you have sacrificed nothing."
"Go look at the graves of brave patriots who died defending the United States of America," said Khan, whose Gold Star signifies immediate family members of U.S. military personnel killed in combat. "You will see all faiths, genders and ethnicities. You have sacrificed nothing and no one."
Khan is campaigning Wednesday for Clinton in Norfolk, Virginia, meeting with community leaders, volunteers, veterans and military families. Khan will highlight the high stakes in this election and decry Trump's repeated attacks on Muslim Americans in this campaign, as well as his perceived disrespect toward American veterans and military families, the Clinton campaign said.
Khan was also featured last week in an emotional 60-second campaign ad for Clinton. He shared the story of his son's death and asked Trump, "Would my son have a place in your America?"
Trump criticized Khan's convention speech this summer, asking ABC News, "Who wrote that? Did Hillary's script writers write it? I think I've made a lot of sacrifices. I work very, very hard."
Copyright © 2016, ABC Radio. All rights reserved.